Dore & Totley Park & Ride car park restrictions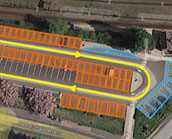 Network Rail will be carrying out a number of partial and full closures of the car parking spaces within Dore & Totley Park & Ride facility, between Wednesday 25 May and Monday 1 August 2022, to allow essential construction work on the nearby railway line.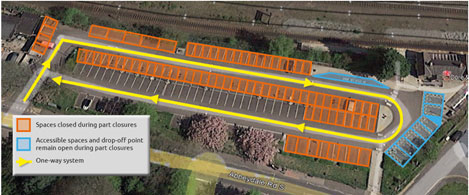 The closures allow for the safe delivery of railway track and materials and for the construction of a second railway line, platform and accessible footbridge at Dore & Totley station.

The works, part of the Hope Valley Railway Upgrade, will remove several bottlenecks along the Hope Valley line to enable more reliable passenger journeys between Manchester and Sheffield.
Car park restrictions
Parking spaces will be restricted to 40 spaces:
Wednesdays (from 5am), Thursdays and Fridays, during the last week of May, and throughout June and July.
During this time the one-way route around the car park, along with the disabled spaces and drop off point will be left clear. A pedestrian access route to the station and nearby restaurant will also be available.
Full car park closures will take place:
The last week of May: Sunday (from 11pm Saturday) with the car park reopening on Monday (6am)
June: Every Saturday (from 5am) with the car park reopening on Sunday (7am)
July: Every Saturday (from 11pm Friday) and Sunday with the car park reopening on Monday (6am).
How will the works affect rail services?
In July, during the full weekend closures, train services will not be running as the project team carries out construction work on the railway line:
TPE services between Manchester – Cleethorpes will be diverted to run via Huddersfield. Services will terminate at Sheffield. A shuttle will run between Doncaster – Cleethorpes. Customers travelling in between Sheffield and Doncaster will need to use another operator.
Northern services from Manchester will terminate at Hope. Buses will operate from Chinley connecting onwards to Sheffield, with those with accessibility requirements, needing to change at Hope as Chinley isn't fully accessible.
EMR: Rail Replacement buses will run between Stockport – Sheffield/Chesterfield.
CrossCountry services will divert via Beighton with journey times extended by approximately 15 minutes.
Keeping up to date:
Further information can be found on the Network Rail website or via the QR code below. Plan ahead - use the National Rail Journey Planner our Journey Planner or call Traveline on 01709 515151.