Bus Service Changes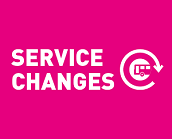 There will be some changes to bus timetables in January and February, and some changes to stand allocations at Sheffield Interchange.
From Tuesday 3 January 2023
Globe service 96 will be changing its timetable - journeys after 17:00 will no longer operate into Yorkshire Sculpture Park. Customers should please use bus stops on Huddersfield Road.
Changes to stand allocations at Sheffield Interchange
Changes will be made to stand allocations at Sheffield Interchange as follows:
Stagecoach services 50, 50a and 80a will move from stand B5 to stand D5
Stagecoach service 53 will move from stand B4 to stand D6
First service 95 and 95a will move from stand D6 to stand A1.
From Monday 9 January
Following feedback from residents to South Yorkshire Mayoral Combined Authority (SYMCA), there will be a minor change to the timetable for TM Travel service 31 as follows:
The first bus will now start at Loxley Road/Mill Dam at 7.13am, and then run at the same times as now from Loxley
An additional journey will run from Loxley at 7.18pm to Hillsborough Interchange, arriving at 7.27pm.
From Sunday 29 January
The 51 Service (Doncaster) on Sunday 29 January – There are changes to the timetable every day of the week. There are details on the service change page
For changes to bus, tram and train services in South Yorkshire visit our
service changes page.